There are just some footballer's who see their kids as very special to them! Here's a look at some of them
1 Lionel Messi And Thiago
Lionel Messi is known to be a man who prefers to lead a private life, and holds his family as the most important part of his life.
Messi's girlfriend Antonella Roccuzzo gave birth to Thiago on 2 November 2012, and boy was he happy! Following his birth, Messi said, "Today I am the happiest man in the world, my son was born and thanks to God for this gift!"
He even got Thiago's name and handprints imprinted on his left calf. The father-son duo was also part of a publicity campaign for UNICEF back in June, 2014 to celebrate Thiago's birthday.
 2 Cristiano Ronaldo and Cristiano Jr.
Cristiano Ronaldo loves his life, but he loves his son, Cristiano Jr. more than that. 
Upon his birth on 3 July 2010, the identity of Cristiano Jr.'s mother was left un-announced, and Ronaldo took over the full custody.
Despite not having a mother by his side, Ronaldo's girlfriend Irina Shayk and his mother, Dolores Aveiro are always seen to be around him, thus filling the void for young Cristianinho.
 3 Lukas Podolski and Louis
Podolski had his first child with longtime girlfriend Monika Puchalski on 14 April 2008, and named him Louis Gabriel Podolski.
Louis sure has brought his parents together as they married in a civil ceremony in Cologne, Germany in April 2011.
 4 David Villa and Luca
David Villa might be all about business when it comes to football, he is indeed the highest Spanish scorer, right?
But, apart from that, he is also known to be a family man, and had married his longtime girlfriend Patricia González in 2003. The couple together has three children, Zaida, Olaya and Luca.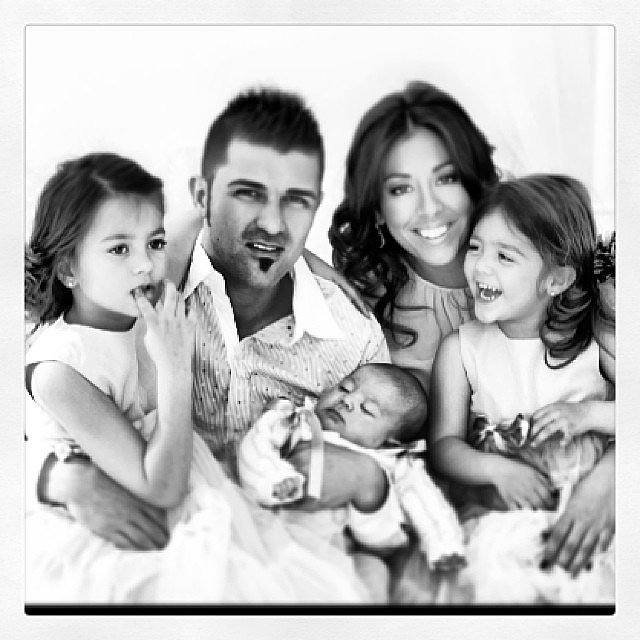 Interestingly, Olaya is named after Villa's Spanish team-mate Fernando Torres' wife, who is also said to be a very close friend to Patricia. Villa has even went on to inscribe their names on his adidas boots.
 5 Wayne, Kai And Klay
According to Manchester United star Wayne Rooney, it was his wife who sorted his life out after they married on 12 June 2008 after six years of being in a relationship, during which Rooney had admitted having been involved in soliciting prostitutes.
The couple gave birth to their first son Kai on 2 November 2009, and another boy last year on 21 May 2013, whom they named Klay.
6 Neymar And His Son David Luca
Neymar had become a father at a very young age. His baby's mother, Carolina Dantas had given birth to David Luca in August 2011, and it was a very emotional moment for the Barcelona star.
"I cried when I learned that I would be his father," he told reporters. "At first, I felt fear. Then joy. It is a new responsibility and I am now enjoying it."
 7 Kaka With His Wife And Children
Kaka is a religious role-model for several of his Brazilian teammates including Neymar, and his religious background is one of the reasons that keeps him so close to his family.
He had married his childhood love Caroline Celico back in 2005, and since then, they have had two children, a son called Luca Celico Leite and a daughter Isabella. Isabella is the younger one.

8 Cesc Fabregas And Lia
This is one of those stories that are not like fairy tales.
Not much is known about Daniella Semaan, but Lebanese-born Daniella was apparently married to her London-based, millionaire businessman husband, Elie Taktouk, when she met Cesc Fabregas for the first time.
She even had two children, and was happy with the relationship. However, the couple recently had a newborn last year in April, their daughter named Lia.
David Beckham And Sons
He might not be playing football anymore but then David Beckham definitely deserves to be mentioned!
The 38 year old former England Captain married Victoria in 1999 and they've been together ever since. They have 3 sons Brooklyn, Romeo and Cruz.
Beckham who is well known for his good looks and trademark free kicks now plans to own his own football club in Miami
His eldest son Brooklyn recently went on trial at Chelsea in view of stepping into the shoes of his father.
Joseph Yobo And Joey
Last but not the least is our very own! Joseph Yobo. The ex-super eagles skipper tied the knot with his lovely WAG and former "Most beautiful girl in Nigeria" in 2008 and have a son Joey.
Yobo who is the only Nigerian to have 100 caps to his name and his wife Adaeze are fond of posting lovely photos of their family hangouts together every now and then.
2,059 total views, 3 views today